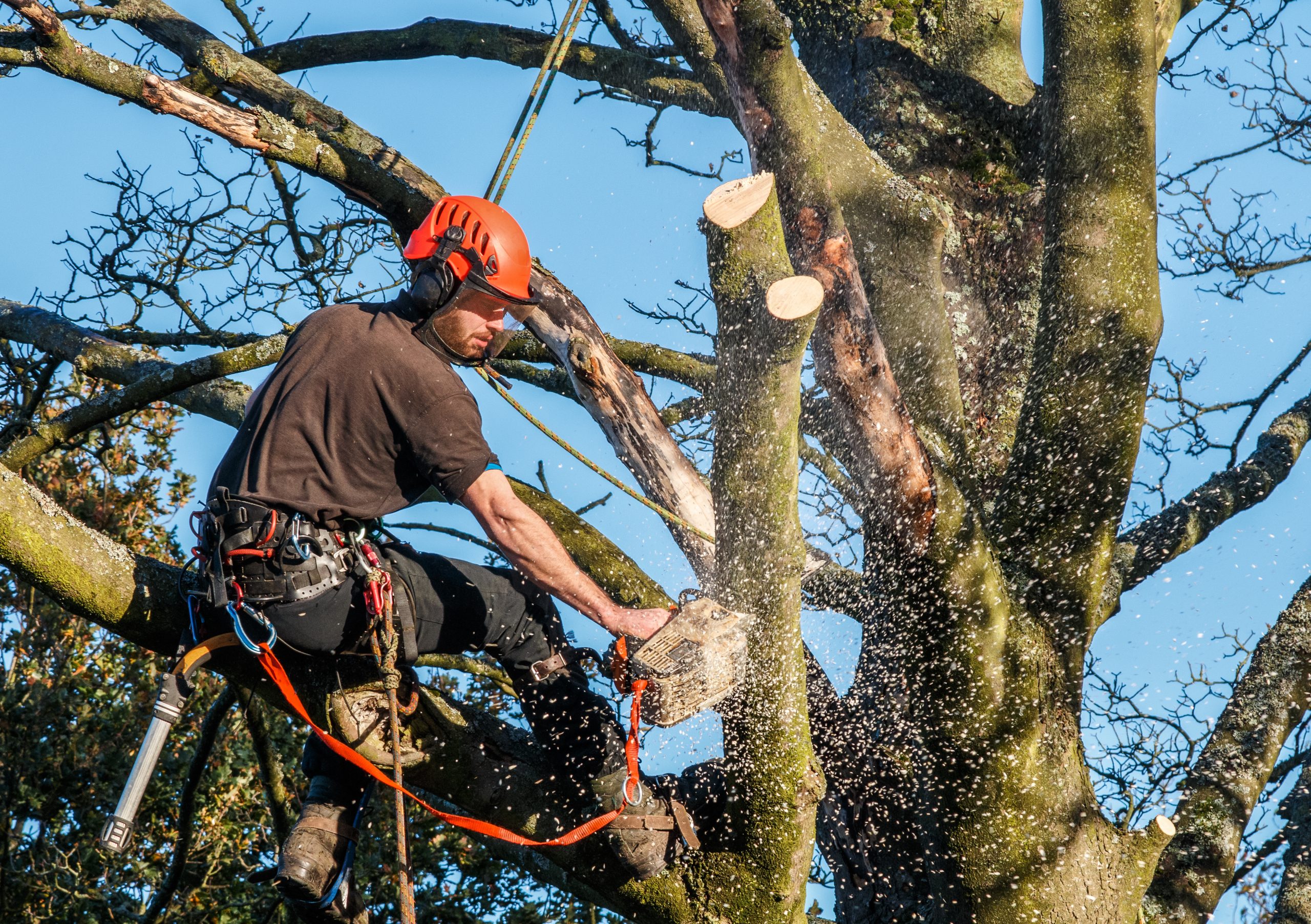 Tree crown work
Including crown reduction, thinning and lifting
As professional tree surgeons, Roman River Trees Ltd have the skills and equipment to reduce, thin or lift the crown of a tree.
---
Tree Crown Reduction
A crown reduction is carried out to reduce the height or spread of a tree by pruning back the leader and branch terminals to lateral branches. By cutting back these tree branches the overall canopy of the tree is reduced in size helping to maintain the form and structural integrity of the tree. Crown reductions are particularly important where trees cause a safety issue, block our light or impose on residential developments and housing generally due to growing too large for the environment they are in.
Tree Crown Thinning
By reducing selected internal branches, it is possible to reduce the density of the tree, reducing stress and the danger of a tree or branch failure from high winds. Crown thinning allows more light and airflow to the tree and is also helpful where branches are conflicting with each other.
Tree Crown Lifting
Tree crown lifting Is the removal of lower branches. Tree crown lifting is done to increase the clearance between the ground level and the lower branches either to allow access below the tree, to clear sight lines, improve views or allow light to penetrate to the ground. By removing the lower branches you can keep the branches away from buildings and traffic.
What Our Customers Say
Great service from start to finish and everything cleaned up perfectly.

Delighted with a quick thorough job, no problem in recommending, many thanks Gordon and your hardworking team. Also a very competitive price.

Filled my log store. Friendly and prompt service. Thanks guys.

Very good service. The guys were knowledgeable, friendly and polite offering good advice where requested. Removed branches and overgrown shrubbery as required and also dismantled an old shed. Everything was cleared, tidied and taken away afterwards leaving the garden looking neat and tidy. Would definitely use them again and also recommend them to anyone needing this type of service

Amazing transformation to our garden, so sensitively done you can't tell how much work has been done. Perfect. Fast response, quick turn around and we were left with a perfect space. Even the leaves were cleared away and wood cut to fit the size of our wood burner! Many thanks!!!!

Perfectly professional tree removal and trimming. Our tree was hanging into our neighbour's back garden but we didn't have the means to fix it properly. The lads showed up and made quick work of everything, the tree trimming is well-balanced -- imagine a bonsai tree but 18m tall -- and they cleaned up absolutely everything afterwards. The attached image is a bit dreary looking but trust me, the tree will be banging when spring rolls around again. Highly recommend.
Contact Us
So if you are looking for tree pollarding in Essex, Suffolk or throughout the surrounding areas then please do not hesitate to contact us. Our friendly team will be more than happy to assist you with any concerns or queries that you may have.
If you have any questions or if you would like us to quote, please fill out our contact form opposite or get in touch via telephone or email.
Roman River Trees Ltd
1 Hall Cottages, Church Road,
Copford Green, Colchester,
Essex CO6 1DD
m: 07738 057415
t: 01206 625772
Back to Services